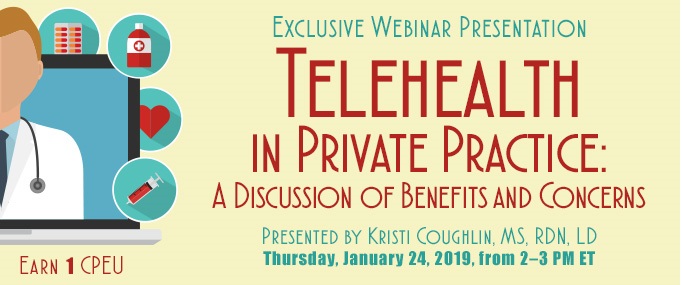 Telehealth in Private Practice: A Discussion of Benefits and Concerns
Presented by Kristi Coughlin, MS, RDN, LD
Presented on Thursday, January 24, 2019, from 2-3 p.m. ET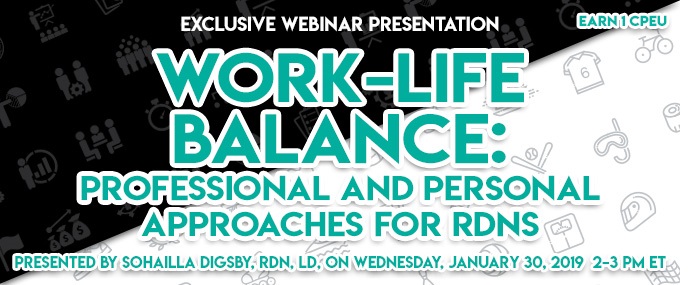 Work-Life Balance: Professional and Personal Approaches for RDNS
Presented by Sohailla Digsby, RDN, LD
Presented on Wednesday, January 30, 2019, from 2-3 p.m. ET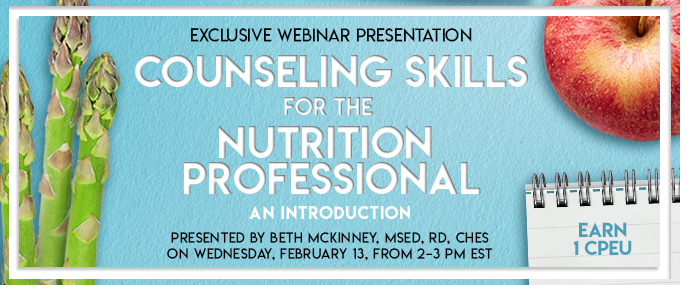 Counseling Skills for the Nutrition Professional: An Introduction
Presented by Beth McKinney, MSEd, RD, CHES
Presented on Wednesday, February 13, 2019, from 2-3 p.m. ET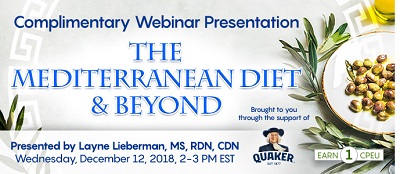 The Mediterranean Diet & Beyond
Sponsored by Quaker
Presented by Layne Lieberman, MS, RDN, CDN
Presented on Wednesday, December 12, 2018, from 2-3 p.m. ET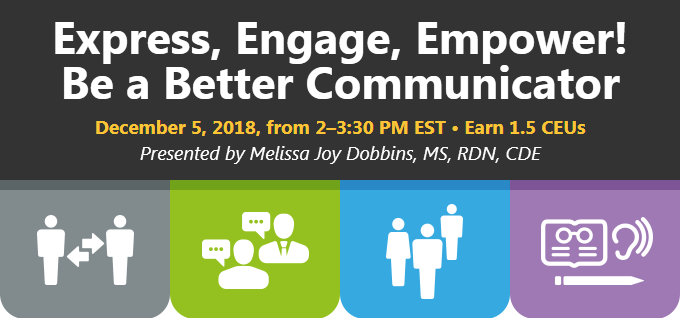 Express, Engage, Empower! Be a Better Communicator
Joint Becky Dorner & Associates and Today's Dietitian webinar
Presented by Melissa Joy Dobbins, MS, RDN, CDE
Presented on Wednesday, December 5, 2018, from 2-3:30 p.m. ET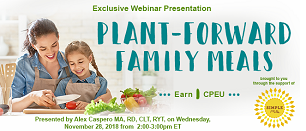 Sponsored by Simple Mills
Presented by Alexandra Caspero, MA, RD, CLT, RYT
Presented on Wednesday, November 28, 2018, from 2-3 p.m. ET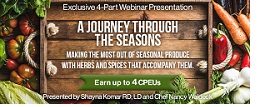 Fall Fiesta: A Journey Through the Seasons
Presented by Shayna Komar, RD, LD, and Chef Nancy Waldeck

Presented on Wednesday, October 10, 2018,

from 2-3 p.m. ET

Register for all 4 parts at a

discounted rate of $60 by adding all 4 webinars to your shopping cart and applying coupon code

SEASONSMIX

at checkout! Please note: this discount applies only to non-CE Club Members.
Part 1: Winter Wonderland
Part 2: Spring Fling
Part 3: Summer Sizzle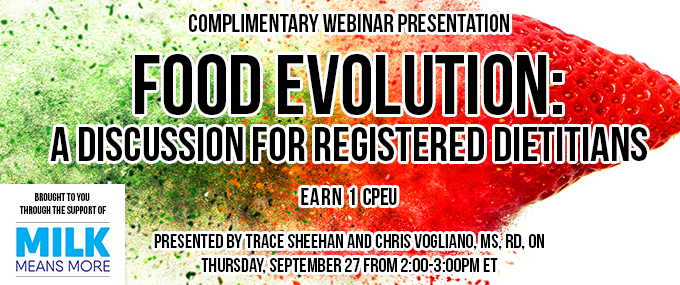 Food Evolution: A Discussion for Registered Dietitians
Sponsored by Milk Means More (Michigan's Dairy Council)
Presented by Trace Sheehan and Chris Vogliano, MS, RDN
Presented on Thursday, September 27, 2018 from 2-3 p.m. ET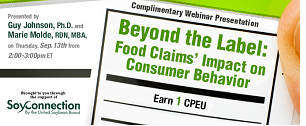 Beyond the Label: Food Claims' Impact on Consumer Behavior
Sponsored and accredited through Soy Connection, brought to you by the United Soybean Board
Presented by Guy Johnson, PhD and Marie Molde, RDN, MBA
Presented on Thursday, September 13, 2018 from 2-3 p.m. ET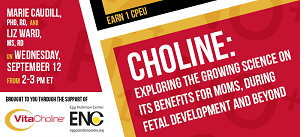 Choline: Exploring the Growing Science on its Benefits for Moms, During Fetal Development and Beyond
Sponsored and accredited by VitaCholine and The Egg Nutrition Center
Presented by Marie Caudill, PhD, RD and Elizabeth Ward, MS, RD
Presented on Wednesday, September 12, 2018 from 2-3 p.m. ET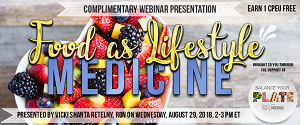 Food as Lifestyle Medicine: Harnessing Your Nutrition Expertise to Inspire Lifestyle Change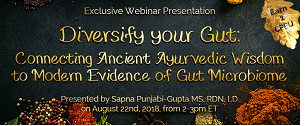 Diversify Your Gut: Connecting Ancient Ayurvedic Wisdom to Modern Evidence of Gut Microbiome
Presented by Sapna Punjabi-Gupta, MS, RDN, LD, AP
Presented on Wednesday, August 22, 2018, from 2-3 p.m. ET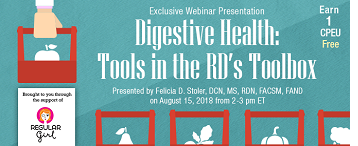 Digestive Health: Tools in the RD's Toolbox
Sponsored by Regular Girl
Presented by Felicia D. Stoler, DCN, MS, RDN, FACSM, FAND
Presented on Wednesday, August 15, 2018, from 2-3 p.m. ET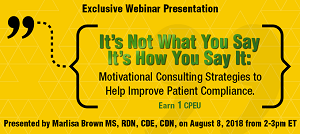 It's Not What You Say, It's How You Say It: Motivational Consulting Strategies to Help Improve Patient Compliance
Presented by Marlisa Brown, MS, RDN, CDE, CDN
Presented on Wednesday, August 8, 2018, from 2-3 p.m. ET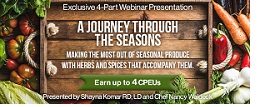 Summer Sizzle: A Journey Through the Seasons - Making the Most Out of the Seasonal Produce and The Complementary Herbs and Spices That Accompany Them
This was presented by Shayna Komar, RD, LD, and Chef Nancy Waldeck

Presented on Wednesday, July 18, 2018,

from 2-3 p.m. ET

Register for all 4 parts at a

discounted rate of $60 by adding all 4 webinars to your shopping cart and applying coupon code

SEASONSMIX

at checkout! Please note: this discount applies only to non-CE Club Members.
Part 1: Winter Wonderland
Part 2: Spring Fling
Part 4: Fall Fiesta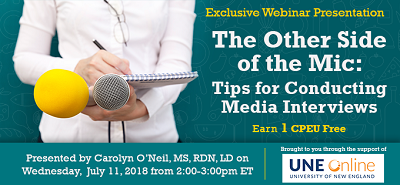 The Other Side of the Mic: Tips for Conducting Media Interviews
Sponsored by

UNE Online

Presented by Carolyn O'Neil, MS, RDN, LD
Presented on Wednesday, July 11, 2018, from 2-3 p.m. ET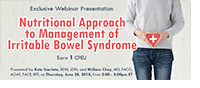 Nutritional Approach to Management of Irritable Bowel Syndrome
Presented by Kate Scarlata, RDN, LDN, and William Chey, MD, FACG, AGAF, FACP, RFF
Presented on Thursday, June 28, 2018, from 2-3 p.m. ET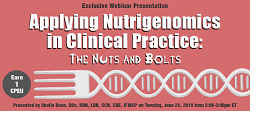 Applying Nutrigenomics in Clinical Practice: The Nuts and Bolts
Presented by Dr. Sheila Dean, DSc, RDN, LDN, CCN, CDE, IFMCP
Presented on Tuesday, June 26, 2018, from 2-3 p.m. ET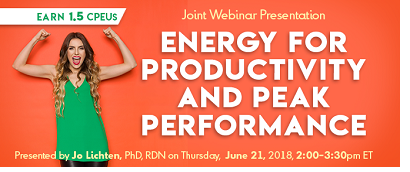 Energy for Productivity and Peak Performance
Presented by Dr. Jo® Lichten, PhD, RDN
Presented on Thursday, June 21, 2018, from 2-3:30 p.m. ET
Purchase Dr. Jo's Reboot book + 12 CEU Exam for $99.00 and get this recorded webinar for FREE! Use coupon code ENERGY4FREE at checkout. Please note: both items must be in your shopping cart in order to apply the coupon.
The Role of Nutrition in Infertility: Evaluating the Research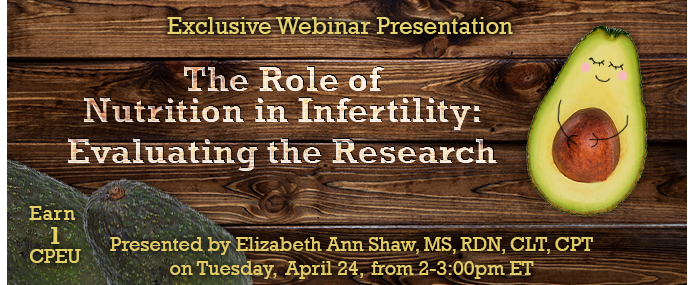 Presented by Elizabeth Shaw, MS, RDN, CLT, CPT
Presented on Tuesday, April 24, 2018,

from 2-3 p.m. ET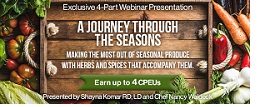 Spring Fling: A Journey Through the Seasons - Making the Most Out of the Seasonal Produce and The Complementary Herbs and Spices That Accompany Them
Presented by Shayna Komar, RD, LD, and Chef Nancy Waldeck

Presented on Wednesday, April 18, 2018,

from 2-3 p.m. ET

Register for all 4 parts at a

discounted rate of $60 by adding all 4 webinars to your shopping cart and applying coupon code

SEASONSMIX

at checkout! Please note: this discount applies only to non-CE Club Members.
Part 1: Winter Wonderland
Part 3: Summer Sizzle 
Part 4: Fall Fiesta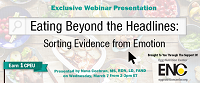 Eating Beyond the Headlines: Sorting Evidence from Emotion
Sponsored by The Egg Nutrition Center, www.EggNutritionCenter.org
Presented by Neva Cochran, MS, RDN, LD, FAND
Presented on Wednesday, March 7, 2018,

from 2-3 p.m. ET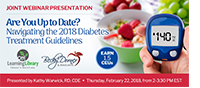 Are You Up to Date? Navigating the 2018 Diabetes Treatment Guidelines
Registration for this joint Today's Dietitian and Becky Dorner & Associates recorded webinar takes place on the Becky Dorner & Associates website. Registration prices for members and non-members are listed.
Presented by Kathy Warwick, RD, CDE
Presented on Thursday, February 22, 2018, from 2-3:30 p.m. ET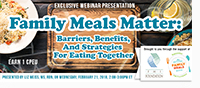 Family Meals Matter: Barriers, Benefits, and Strategies for Eating Together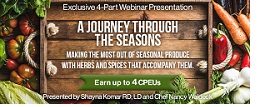 Winter Wonderland: A Journey Through The Seasons - Making The Most Out of Seasonal Produce And The Complimentary Herbs and Spices That Accompany Them
Presented by Shayna Komar, RD, LD, and Chef Nancy Waldeck

Presented on Wednesday, January 31, 2018,

from 2-3 p.m. ET

Register for all 4 parts at a

discounted rate of $60 by adding all 4 webinars to your shopping cart and applying coupon code

SEASONSMIX

at checkout! Please note: this discount applies only to non-CE Club Members.
Part 2: Spring Fling
Part 3: Summer Sizzle
Part 4: Fall Fiesta

The Sustainability and Nutrition Connection 
Sponsored and accredited through Barilla America, Inc

.

Presented by

Danielle Nierenberg, founder of FoodTank

, and Chris Vogliano, MS, RD

Presented on Wednesday, January 24, 2018,

from 2-3 p.m. ET